I was speaking with a friend the other day and the topic of blogging came up. 'Wasn't your last post the one where you said you would start blogging again? And wasn't that one like.. ages ago?' I know, I know! I'm guilty! It's easy to think that something you don't like would be difficult to do, but it's surprisingly difficult to get myself to the computer to type... although admittedly, when I'm here, it's even harder to make me stop.
I have lots to say about graduation and all its associated feelings (happiness, confusion, uncertainty, etc.) but inevitably, when I returned here, my life instantly began revolving around food once again. Before I was due to come home, I was so eager about all the food I was going to have in Malaysia that I almost completely forgot about shedding the weight I put on over the exam period. Of course, it hasn't helped that I've been closely following
Bangsar Babe
's food adventures. But rather than deprive myself of all my favourite things, Boyfriend suggested I come up with a list of 5 things that I really wanted to have and pace those out.
With the entire packing period being too hectic, I wasn't able to eventually come up with a list, which eventuated into glorious meals with my friends and family. From delicious banana leaf rice with my mom, oooey gooey matcha lava cake with my friends, yummy durian, to amazing chicken rending from my very own kitchen, I've really been able to indulge, hehe.
Now that I've settled down a fair bit in the past week though, I'm finally sitting down to put this list together. And in no particular order, with images sourced online, I've narrowed down these cravings to:
I haven't found the one true place that does it to my heart's content, but mee mamak is my ultimate favourite order at a mamak shop. Not even maggi goreng can top this for me. For the uninitiated, mee mamak is pretty much fried noodles with egg, tofu, a hint of vegetables, and a huge burst of flavour. I always add some chicken to it which takes the entire dish to another level.
2. Nasi kunyit + curry chicken
I've had cravings for this for ages. Ever since I was a kid, I've adored nasi kunyit. It is chewy and sticky, and when warm, it just goes down so incredibly well with a side of curry chicken. For my non-Malay speaking friends, kunyit is turmeric, which is what gives it its distinctive yellow colour – so none of that artificial stuff! I didn't know how good it could be for you (read more about its benefits
here!
), and in this day and age where so many food articles seem to indicate foods being harmful and cancer causing, it's great to justify my indulgence with good news.
Man, a good bowl of this and I'm satisfied for ages! Silky noodles and runny egg are the absolute perfect combination. It's not exactly a new thought, considering
carbonara
runs on the same principle. But throw in some minced meat, chopped mushrooms, lots of soy sauce and you get this glorious steaming bowl of deliciousness. If you think it's good, wait till you get to the bottom charred bits.
4.
Face 2 Face Dry Curry Chicken Pan Mee
I have been having a particular craving for this dish. The curry here is thick and spicy, going well with the springy noodles. When topped with a huge tablespoon of chilli, this dish gets me sweating and gasping for water, but I can't stop till I reach the end. I don't think anyone else I know has the same affinity for this, but I put it down to them not having tried it the way I have. If you're ever in Malaysia, look for Face 2 Face (it's a chain restaurant) and if you can handle the heat, please give it a try!
--
I don't actually have a 5th dish although I thought about it for ages! So I'm leaving my 5th as the abundance of iced Milo I'm bound to drink back here. Although we can always make our own from sachets, it isn't quite the same as having a cool glass in front of you, sweet from a more condensed milk than I'd ever put on my own, and served in that iconic mug that will always remind me of my childhood.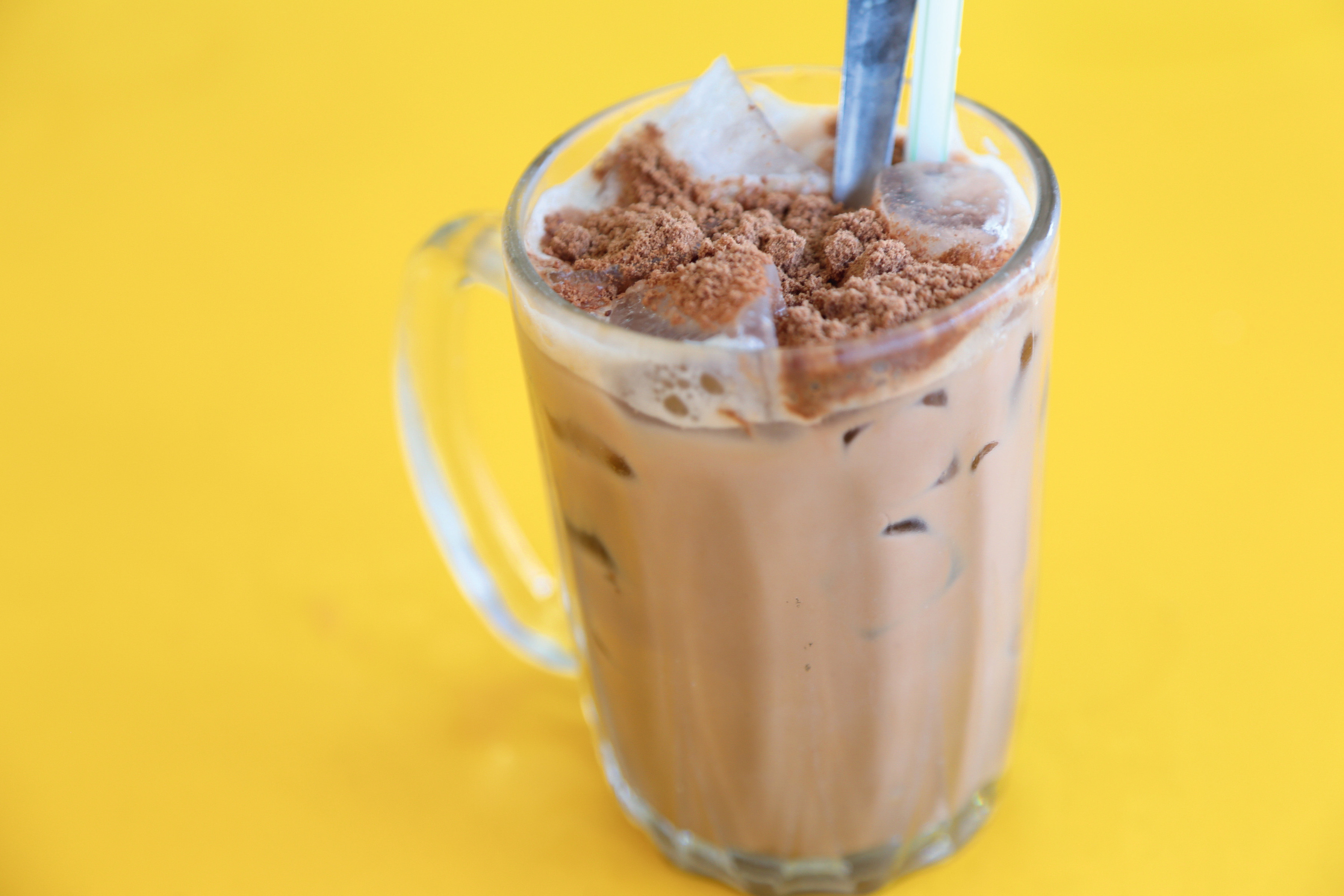 Cheers to being back!